The term "autonomous heating" is used to describe the installation of central heating that provides the owners with the possibility of independent regulation of the room temperature between the apartments of the building. [1]
The autonomy of the apartments can be done by controlling a room thermostat and:
autonomy valve (in central heating).
• thermostatic heads / wireless thermostatic heads (in central heating).
• autonomy with circulators in (central heating).
• individual gas boiler (subject)
• individual oil heating boiler (conditional)
• heat pump
• individual pellet boiler (under conditions)
• electric heating
Table of Contents
1 The advantages of central heating.
• 2 Why autonomous heating.
• 3 Ways to measure consumption in central heating systems
• 4 Ways of autonomy with individual heating system.
• 5 Sources
The advantages of central heating.
Despite its disadvantages and the frictions that its use sometimes creates, central heating is almost always the most economical way to heat a building, or if it is not, it can be done by improving and modernizing the heating installation. the room for consultation between co-owners must first be exhausted before they decide to disconnect from the central heating.
Why autonomous heating.
"Non-autonomous" could be characterized as a heating installation (usually of an old apartment building) consisting of a central boiler that supplies hot water to the radiators of all apartments
simultaneously, through pipes that run vertically through the building, as in the following figure: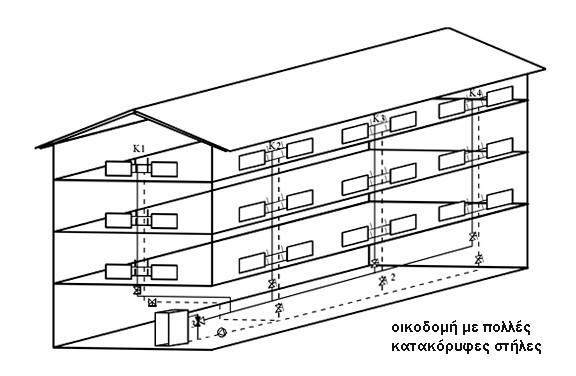 In older installations, heating pipes are common to all building apartments and usually run through the building with more than one central vertical column passing through all properties. Thus, in these buildings, it is not possible to independently regulate the temperature in each apartment, but the apartments are heated all together during the hours of operation of the installation.
This has a negative effect on both the quality of the heating and the operating costs of the installation. In these buildings the uniformity in temperature of each apartment depends on the accuracy and success of the heating study and the overall quality of construction (mainly in terms of insulation) of the building. There are many cases in which many apartments in such buildings overheat during the heating hours and the tenants are forced to open the windows and balcony doors (which means a lot of energy waste), as well as there are many cases of apartments that are not heated enough. (mainly on the top floor of the building).
Ways to measure consumption in central heating systems
The independence of the apartments in a building can be done in three ways:
By timing.
• By calorimeter
• With wireless autonomy system with thermostatic heads
maintaining the dependence of the apartments on central heating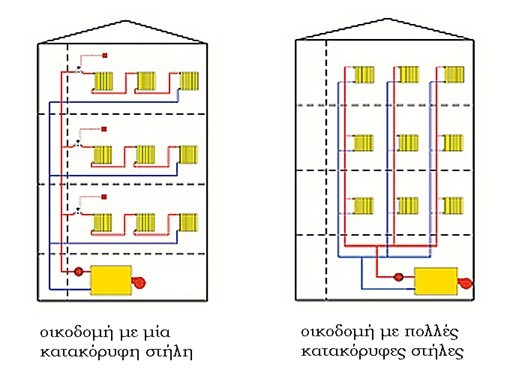 Ways of autonomy with individual heating system.
The systems that are suitable for the construction of an individual installation are:
Autonomous heating with individual gas unit.
Autonomous heating with individual oil boiler
Autonomous heating with heat pump.
Autonomous heating with electric boiler
Autonomous heating with electric radiators